THE SOLOMON FAMILY
<![if !vml]>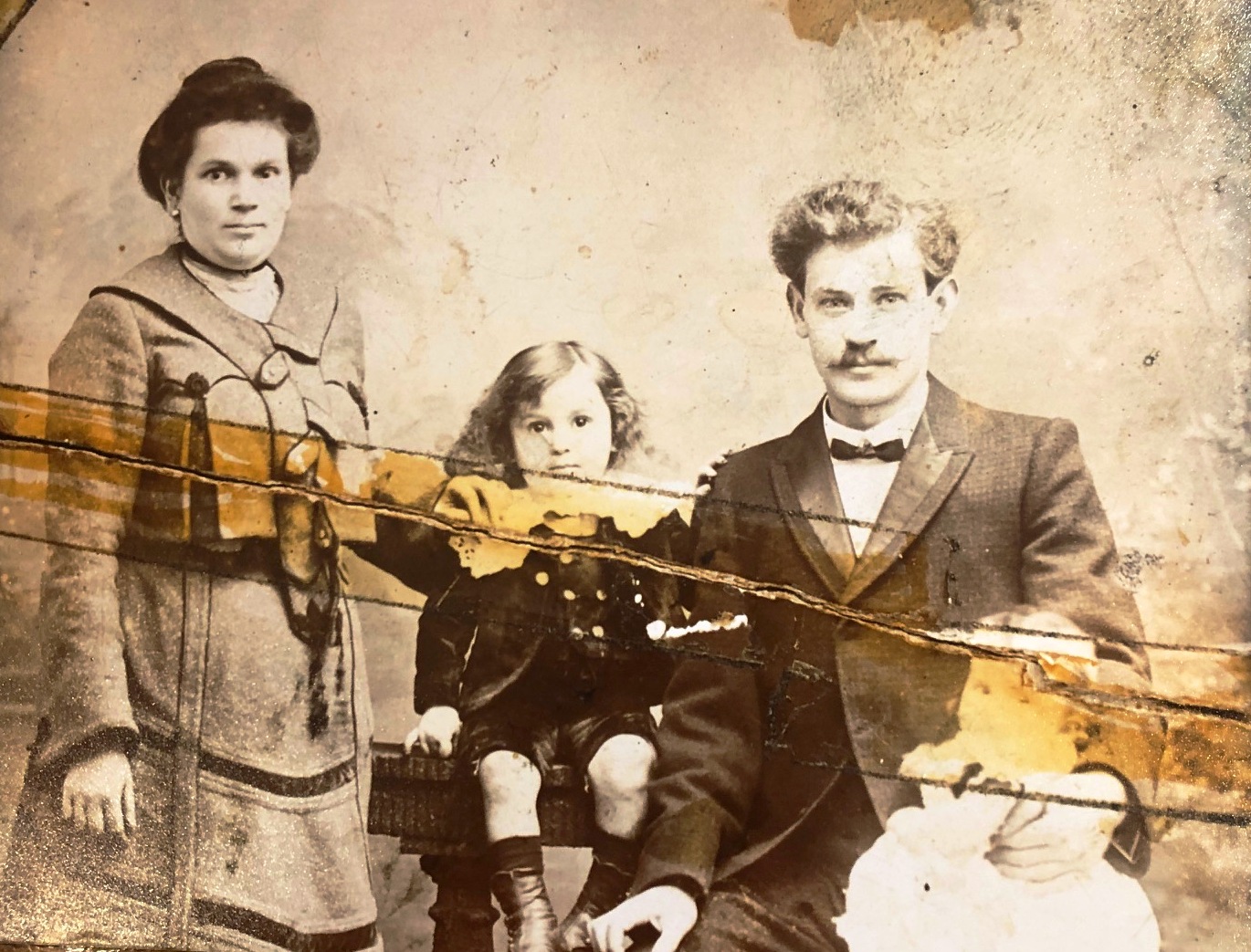 <![endif]>
The Solomon Family (circa 1903).  Taken in England.
L to R: Anna, Jacob (my grandfather), Isaac, baby May
The Solomon family immigrated to NYC  from somewhere in Russia.  We believe that originally his surname was "Pissaresky" and at some point he changed it to Solomon.  Most in the family say they came from a shtelt near Vilna, Lithuania. Isaac's burial society was the Wilner Society which suggests residence in or near Vilna.  Family legend has it that Isaac was studying to be a rabbi (note: one of the oldest and most famous centers for Judaic Study in the world is in Kaunas near Vilna).  Isaac did not enjoy his studies and became a tailor. 
Isaac (Yitzhak) was born in Russia on February 22, 1880.  His father was Samuel Solomon and his mother was Miriam Silverblatt.  This is according to Isaac's Social Security Application.  He may have "Americanized" the names because on Isaac's gravestone, he is the "son of Slomo Zalmen the Levite."    Isaac married Anna Zalmonovitch  in Russia about 1900 and they moved to London England where my grandfather Jacob was born in 1901.  In 1903, Mamie (May) was also born in London.  Soon after, Isaac left London for NYC.  I could not find his arrival in NYC on the Ellis Island Website.  It is possible that he arrived under his old name and it is so misspelled it will be hard to find.  His granddaughter, Renee Goldberg said Isaac told her that when he arrived at Ellis Island the authorities could not pronounce his name.  They asked Isaac who is father was and he replied,"Slomo Zalmen."  So they changed his surname to Solomon.
Anna (Chana) always told Renee that her birthday was on the first seder night of Passover one year after Isaac's birth year.  That would make her birth date Wednesday, April 13, 1881.  Her arrival to Ellis Island is recorded.  She departed Southhampton England on March 19, 1904 on the SS St. Louis and arrived in the Port of NY at Ellis Island on March 27, 1904.  The manifest notes that she was pregnant (with Sammie), and she was with her children, "Jake" age 3 and "Millie" age 11 months.  Her contact in NY was listed as her husband Isaac who was living at 38 Montgomery St., NYC.
They lived in Brooklyn NY for the rest of their lives.   They had three more children in the United States.  Samuel (1904 – 1991), Florence (1909 – 1979), and Bella (1915 - 1984).
Isaac died on April 21, 1949 in Brooklyn at age 69, and he is buried in Mt. Lebanon Cemetery in Queens.  His death certificate says his date of birth was April 20, but I think they confused this date with his date of death.
Anna died of a ruptured appendix on December 27 1950 in Brooklyn at age 70.  She is buried in Mt. Lebanon next to Isaac.  (see her death certificate).
See their inscriptions of the Ellis island Wall of Honor.
<![if !vml]>
<![endif]>                         <![if !vml]>
<![endif]>